If you already know about this method, GREAT. Use it!
However, if you don't know already, I may be your favorite person on earth in just a few moments.
There are people online (including me) who make it our mission to create "Done for You" content that you can use as if you created it yourself to create your own products and programs and grow your business.
For instance, I co-own a site called "Coach Glue: We Make Your Clients Stick to You". What we do at CoachGlue is stated on the front page:
We design and create high-end coaching programs, workshops, and content for business coaches that you can customize, license, brand, and sell to your own clients.
Yes, it's exactly as it sounds. We spend hundreds or thousands of dollars to create everything from interactive workbooks to complete Coaching Workshops that Business Coaches can then take and then dig in and customize, personalize, and monetize. We also provide PowerPoint slides and scripts so that the Coach can literally download one of our products, change the slides a bit and then hop on a webinar an hour later to present the material. (Although I certainly wouldn't recommend that.)  In our larger programs, we also include written checklists, sales pages, webinar sign up copy, action guides and so much more.
You can see a video walkthrough that my business partner, Melissa Ingold, and I did to explain how Coaches can take our Teach Your Tribe packages and turn them into a monthly coaching program.
If you're a business coach, go grab the Teach your Tribe program.
It's a fantastic shortcut!
What if you're NOT a business coach?
But you may be thinking "Nik, I'm not a business coach!"
If that's the case, then you're still in luck. 🙂
Since 2005, I've been selling Private Label Rights (PLR) Content. What is that exactly? Well, it's the same as "Done for you" content that I was describing above, except you can get topics covered from weight loss to finance to parenting and everything in between.
Plus the variety is huge. Get everything PLR articles, videos, graphics and even full reports and ebooks.
Yep. You can take that content (LEGALLY) and use it as a starting point to create your next products OR use is as a way to add bonuses to one of your products.
Here's an example from one that I used a few years ago.
I had a lot of people asking me how to sell their infoproducts once they got them ready to go.
Back then there weren't as many options, but one that was easiest was Clickbank. So, I was browsing my friend Alice Seba's PLR site at the time and I found a "How to Sell on Clickbank" PLR report. It looked pretty basic (because that's what it was which was fine) and I knew some major tricks to make it better that I could add to it. I also wasn't in love with the order of steps, but the key is that I  knew that I didn't have to start from scratch to create my own version!
So, I grabbed her guide and dug in. I spent about an hour or two moving things around, editing it, and adding more info and turned it into more of a case study. I recorded a few videos where I thought it would help my students to understand better. Then, I added a few bonuses, and sold it to my peeps. They LOVED it.
Here's proof. Yes, it's ugly and no, it's no longer for sale, but it served its purpose at the time. (Remember, you don't have to be perfect to be profitable. God knows, I'm not!)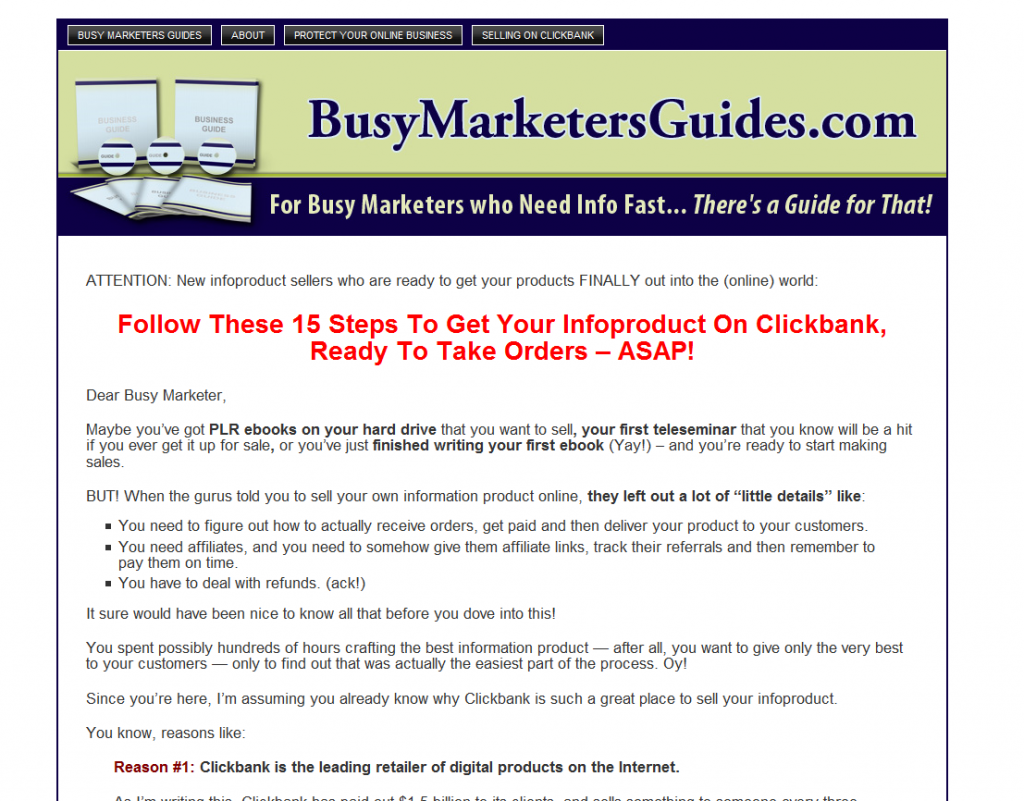 My point is that it's so much easier for me to look at product and start from a draft and see what I would like to improve upon it than it is for me to stare at a blank piece of paper and think, "What do they want to know? How can I explain this the best possible way? What are their questions going to be?"
I could stare at that blank piece of paper all day and just be like, "Ugh! I don't know what they need to know. I don't know how to help them." So, sometimes if I get a PLR product then I can go, "Well, this part needs to go, this part needs to move, let's rearrange it like this, and I'll add here, and enhance here, add my personal experience, add some examples, some screenshots, throw some videos up to demonstrate where things are." Boom, it's done.
The important thing is that I started that product with PLR and I completely redid it in a day.
Where to look for the good stuff? 
Coach Glue – obviously
Easy PLR – again, it's mine and it's solid look at the reports, but also the articles can usually be turned into a report pretty easily, too.
Personal Development & Improvement PLR– Perfect for Business Coaches, Success Speakers, WAHM blogs, Health bloggers, and Life Coaches.