Not a Writer? Not a Problem!
Even If You Failed Your High School English Class, You CAN Create Your Very Own Products and Programs and

Finally

Start Making Money!
Do you enjoy writing? If so…
STOP!
Don't Read Any Further! Seriously, I mean it… If you have the gift of words, click that little X up in the right hand corner of your screen and close this window. This information is not for you.
If, however, you DREAD writing blog posts, emails, or anything else for that matter, so much so that you can't even FATHOM the idea of creating an eBook or Infoproduct…
You're In The Right Place!
Dearest You,
It doesn't matter if you're brand new to the whole online business world or you've been dabbling with it for a while, you probably already know that in order to really get off the bench and play in the game with the big dogs, you've got to have one thing.
Can you guess what it is that makes the coach say "You're Goin' In!" I'll give you a hint, it's NOT:
A blog
A profile on every social website
It's not even a list!
All of those things are  important parts of gaining success online and are necessary to make money, but if you really want to get in the game, you've got to have…
YOUR OWN INFORMATION PRODUCT OR PROGRAM OF SOME KIND
You basically have to have your OWN buy buttons out there to finally break through the ceiling and make everything else easier.
Affiliate marketing is wonderful. You won't find me arguing there. I make a big chunk of my income from recommending other people's products. But I have seen time and time again with my coaching clients that adding your own info product to a business will open doors that those other things couldn't. Things like:
More Influence
Increased Income
Greater Impact
A Wider Audience
There's nothing like it when these things start to fall into place.
Having your own products is most likely the key piece that you're missing.
This is nothing new if you think about it. You've probably had dozens (if not more) coaches tell you this exact statement.
If you want to make more money online…
You MUST create your OWN products!
That's all fine and dandy if writing comes naturally to you, but what about those who struggle with writing or don't have time to add another item to their to-do list?
Tell me if you've heard these things before…
You hear that blogging is the BEST way to get traffic. ((MAN!!)) It's not the best way to start if you're not a writer.

Then, you're told if you want to make a ton of money, an infoproduct business is the way to go. ((UGH!!)) Ready to throw in the towel yet?

That's not all either! Next, you learn not only is there money (and lots of it) in infoproducts, BUT…Membership sites are where the steady income is. ((SCREAM!!!!)) Geez, now you've learned that not only do you have to write ONE eBook, but if you really want to make the big bucks you've got to write one EACH & EVERY SINGLE MONTH!
Frustrated yet? What if I tell you that not only do you have to do all of that writing, but first you've got to actually come up with the ideas. ((YUCK!))
Do you feel like I'm talking directly to you? Then I probably am. Keep reading, because I've got a solution for you…
Please… Do NOT let lack of skill or time stop you from creating your own product! It's much easier than you think.
Is the key to infoproduct success to hire a writer? Perhaps. But even doing that, you don't want to get hosed by overpaying or ending up with a shoddy (or stolen) finished product.
It's almost like a Catch 22 isn't it?
Let me be the first to tell you:
YOU CAN CREATE YOUR OWN PRODUCTS WITHOUT WRITING A WORD!
You may have seen other courses or guides that get your hopes up only to tell you the only way to make more money online is to write your own eBook. While that's a good way, rest assured it isn't the ONLY way to create passive income.
I've put together 13 different ways (and growing) that you can produce quality and highly profitable information products that will send orders flying at you like the big red ball in a dodge ball game!
This course shows you how you can actually have your own infoproduct ready to load up to your website in just days!
If You Can Read – You Can Create an Infoproduct Empire of Your Very Own!
Are you ready to give yourself a boost in profits without the painstaking task of writing an entire eBook? The sooner you finish this training, the sooner your products can start raking the cash into your pockets. I'm itching to help you do just that!
YES, Nicole, I want to know the secrets to creating profitable and popular info products without writing from scratch!
I want to read this course material today for only $17.

Who the Heck am I?
This is me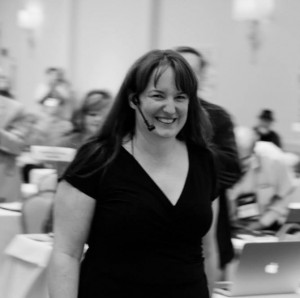 Why should you care what I teach? 🙂 
I've created over 500 programs.  (Yes, five HUNDRED.)
I'm an experienced product seller.
I love affiliate marketing and have been on the leaderboard for lots of affiliate contests and have won several.
I'm a business coach to really smart people.
I don't just talk the talk, I walk the walk. This is important stuff. You don't need to struggle through this. It's not that hard once you see what others before you have done to pave the way.
I can't wait to show you!
Helping you Earn Money Online without Going Crazy in the Process,

PS: If you order this program today, you could be making more money tomorrow.
PPS: Remember, this order is risk-free. If you're not happy with this training for any reason, I'll give you back your money, no questions asked.
FAQ:
Q: How will this impact my business?
A: Only by creating your own information products can you achieve the audience reach and income you deserve. You can struggle with the trial-and-error method, or you can fast-track your success by grabbing this ebook today.
Q: Is there a guarantee?
A: Absolutely! I can't guarantee you'll make a million dollars, but I will promise you that if you don't feel this information helps you rethink your information product strategies, I'll refund your purchase price.
YES, Nicole, Let Me In!
I want to read this material today for only $17.

I'll let other people tell you about why I rock.
"The value of an idea lies in the using of it." – Thomas A. Edison