Your daily dose of awesome. Watch for tomorrow's email for even more fun stuff.
Life:
I firmly believe that what you feed your brain affects all areas of your life. Feed it good stuff. 🙂
Perhaps instead of binge-watching another series on Netflix, choose a few of these topics that grabs your attention and watch it: http://www.ted.com/playlists/171/the_most_popular_talks_of_all
Not that there's anything wrong with binge-watching shows. (I'm in the middle of Dr. Who right now, myself.) But I also know that watching negative stuff affects my mood and my outlook in general. Not exactly the path to Awesomization for me.
Here are some more:
OR if you want to listen to Ted talks but not be stuck in front of a screen, voila: https://itunes.apple.com/us/podcast/tedtalks-audio/id160904630?mt=2
I'm also LOVING this lecture on Audible right now.
It's about so much more than vulnerability. It's about play and rest and creativity and … just what you want your LIFE to be like. I recommend it highly.
I recommend -> The Power of Vulnerability.
Awesome Life, Business, and World, Part Two: Change your Password. Change your Life. 
What is your password to get into your computer? Is it "Misty" or "Princess"? 🙂
Why not make the act of typing in your password to get into your computer something that makes YOU more awesome.
Here's an article from the Huff Post.
You can read the original here (but I do need to give a *language warning*. So if that upsets you, skip it.)
http://www.huffingtonpost.com/mauricio-estrella/how-a-password-changed-my-life_b_5567161.html
What happened is this. A man sat as his computer, frustrated and upset and angry, when his Microsoft user password change notification popped up.
In the middle of his anger, he remembered a tip from his former boss that changed his life. And here's the rest of the story…
I'm gonna use a password to change my life.

It was obvious that I couldn't focus on getting things done with my current lifestyle and mood. Of course, there were clear indicators of what I needed to do — or what I had to achieve — in order to regain control of my life, but we often don't pay attention to these clues.

My password became the indicator. My password reminded me that I shouldn't let myself be victim of my recent break up, and that I'm strong enough to do something about it.

My password became: "Forgive@h3r"

I had to type this statement several times a day. Each time my computer would lock. Each time my screensaver with her photo would appear. Each time I would come back from eating lunch alone.

In my mind, I went with the mantra that I didn't type a password. In my mind, I wrote"Forgive her" every day, for one month.

That simple action changed the way I looked at my ex wife. That constant reminder that I should forgive her, led me to accept the way things happened at the end of my marriage, and embrace a new way of dealing with the depression that I was drowning into.

In the following days, my mood improved drastically. By the end of the second week, I noticed that this password became less powerful, and it started to lose its effect. A quick refresh of this 'mantra' helped me. I thought to myself I forgive her as I typed it, every time. The healing effect of it came back almost immediately.

One month later, my dear exchange server asked me again to renew my password. I thought about the next thing I had to get done.

My password became Quit@smoking4ever

And guess what happened. I shit you not. I quit smoking overnight. This password was a painful one to type during that month, but doing it helped me to yell at myself in my mind, as I typed that statement. It motivated me to follow my monthly goal.

One month later, my password became Save4trip@thailand

Guess where I went three months later. Thailand. With savings.

So, I learned that I can truly change my life if I play it right. I kept doing this repeatedly month after month, with great results.

Here is an extract of what some of my passwords have been in the last two years, so you get an idea of how my life has changed, thanks to this method:

Forgive@her ← to my ex-wife, who started it all.
Quit@smoking4ever ← it worked.
Save4trip@thailand ← it worked.
Eat2times@day ← it never worked, still fat.
Sleep@before12 ← it worked.
Ask@her4date ← it worked. I fell in love again.
No@drinking2months ← it worked. I feel better.
Get@c4t! ← it worked. I have a beautiful cat.
Facetime2mom@sunday ← it worked. I talk with my mom every week.

And the one for last month:

Save4@ring ← Yep. Life is gonna change again, soon.

I still await very anxiously each month so I can change my password into something that I need to get done.

This method has consistently worked for me for the last two years, and I have shared it with a few close friends and relatives. I didn't think it was a breakthrough in tiny habits but it did have a great impact in my life, so I thought to share it with you all.
And, part 3 because I love ya. More to Awesomize your Business, Life and the World: 
Today's other idea is a simple one. It's made me happier, made me more money, and helped me out when I've been overwhelmed.
All it takes are a few post-it notes. 🙂
This note is posted above my computer where I can see it at all times. It asks me "What Would Awesome You Do RIGHT NOW?!"
It is my reminder when I feel overwhelmed in my businesses or like I have too many options that I really only have to do ONE thing. The thing that Awesome Nik would do. That oftentimes, as silly as it sounds, helps me to get laser focused and get the RIGHT things done.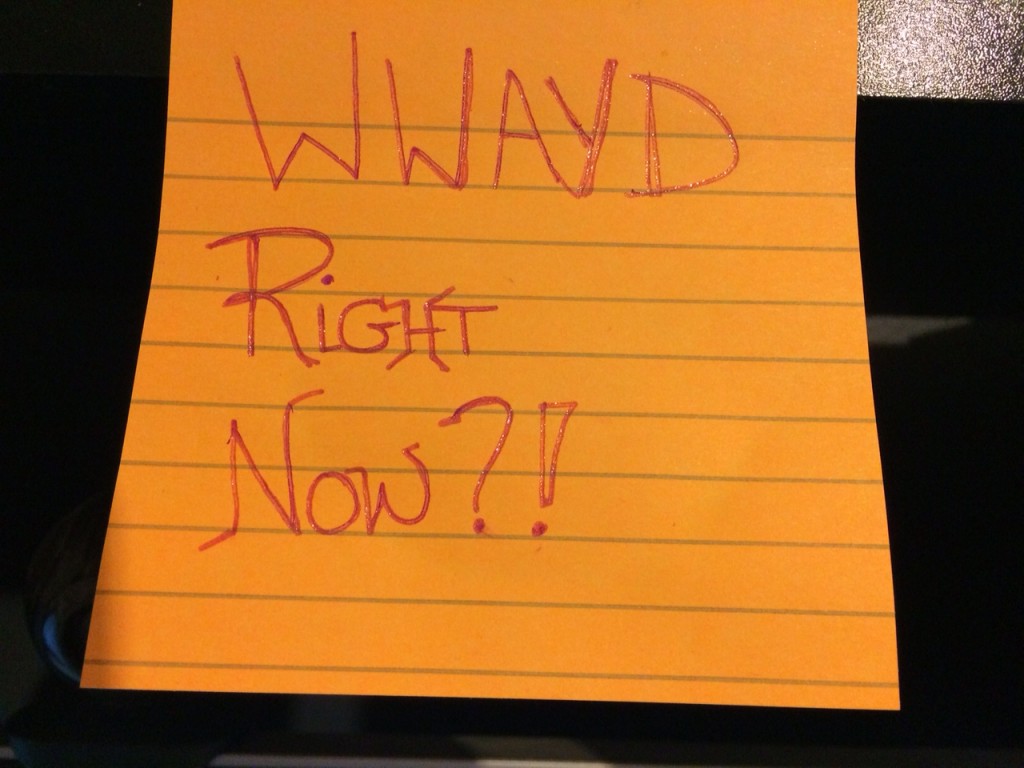 My other post it note says "WWAYD Next???" and it's … wait for it… posted on the back of my bathroom door, right at eyeball level. 😉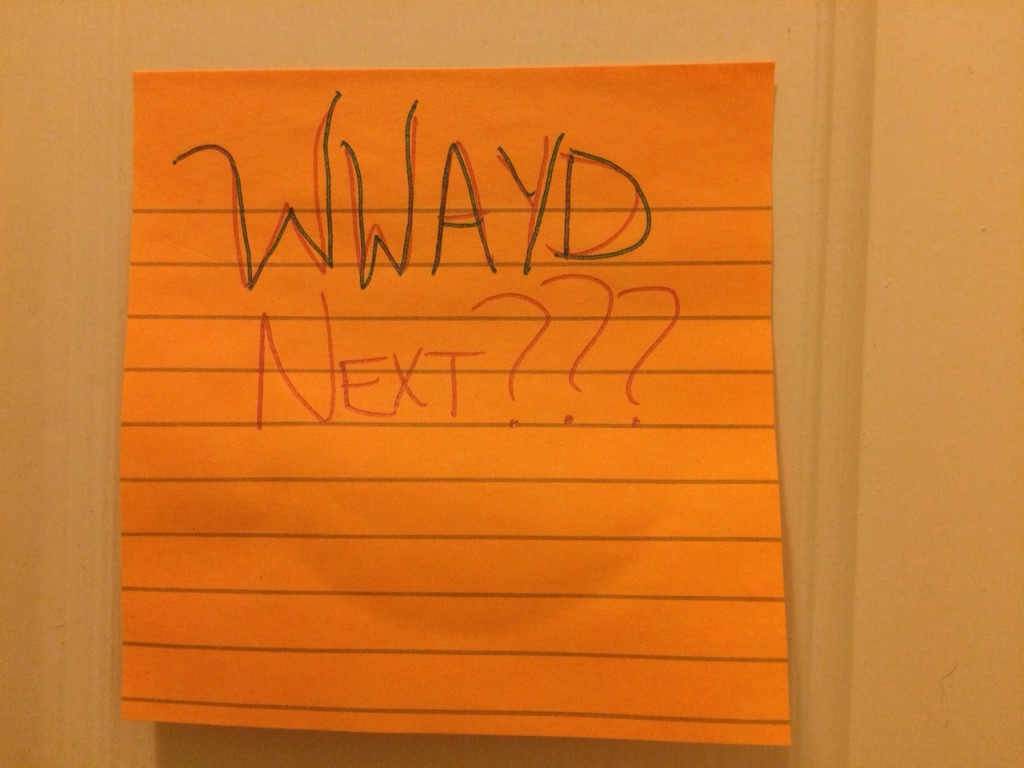 Why? Simple. Oftentimes, after I take a quick pee break, (I wash my hands obviously) and then I wander out of the bathroom aimlessly thinking "Hmmm.. I wonder what I should do now."
Not anymore. I now walk out and know exactly what my NEXT step is.
It may be
"Go eat something. You're starving and you can't keep going like this and be productive." or
"The most important thing for you to do next is to sit down with your coaching client's sales page and read through it and figure out how to make it sell better."
Regardless, I have a very clear direction, which, like I said, may seem silly, but the alternative literally would cost me days of my life every month… wandering around the house, getting on Facebook, picking up the phone, etc. So, I wanted to share. 🙂
Hugs and high fives,
Nicole