For online marketers who want to be ready for anything, including the "unthinkable":
How Much
TIME

and

MONEY

Would it Cost You to Lose Everything on Your Computer?

Dear Smart Marketer,

Everything can disappear in a blink.
Your most important business assets are in your computer and on the Internet. They're vulnerable to all sorts of dangers:
hackers
computer viruses
identity theft
phishing attacks
hard drive crash
computer thief
fire, flood and other natural catastrophes
even a cup of spilled coffee
The list could go on and on. Any single one of these can make you lose hours, even days from your business.
How much money would you lose if all your websites are down for even one day? Or if you lose all your computer files?
Here's the hardest question of all: what would happen to your business if something happened to YOU?
I don't want to be negative, but let's be realistic. Things happen. You could get sick for days, even weeks. You could have a family emergency preventing you from actively working on your biz. Or even worse (you know what I mean).
Does your family know what to do next to keep the income flowing from your online business – even when you're gone?
A Computer Crash Can Cost you
Weeks of your Time


(and Money you Can't Afford)

The cost of any of these disasters is incalculable.

Plus, the hair pulling, sleepless nights and gut wrenching stress are no fun.

A hacker can easily:
max out your credit card
destroy your credit history
ruin your reputation
trash content that took you years to create
wipe out all the data in your computer's hard drive
Because you're a smart online entrepreneur, you're probably already taking steps to protect your business.
Maybe you have all your passwords safely stored in a secret document in your computer. Or, to help you remember, maybe you use the same username and password in several sites.
These are big mistakes! Your password can get "stolen" as you're typing it to log into your PayPal account.
And using the same usernames and passwords in different sites is a serious security breach: if one site gets hacked, your login details will be harvested and the hacker will use them in different sites.
Imagine what a disaster that can become.
Also, you probably already back up your computer files in an external hard drive. That's great! But it's not enough.
Your external hard drive can get lost, stolen or damaged right along with your main computer.
Your Computer Just Got Fried
You need a water-tight, bullet-proof and iron-clad system to keep your business – in fact, your entire online life – safe.
At the same time, you need a solution that won't cost you an arm and leg, doesn't take days to implement, and doesn't require a computer science degree to understand.
I've got just the thing for you.
I've put together a special report called "How to Avoid Disaster in your Online Business," to help you avoid the financial and personal devastation that comes from an attack, loss or damage of your online and computer security. I did my best to keep it short and actionable so that you can dive in and then get right back to work.
Now You Can Sleep Well At Night,
Knowing Your Online Business Is Safe

In the few minutes it takes you to read "How to Avoid Disaster in your Online Business," you will discover:

The do's and dont's of creating and using passwords – so hackers can never guess or copy them  (page 5)

The no-sweat way to generate, keep and manage all your passwords, for little or no cost – never worry about forgetting, losing or having your passwords stolen (page 9)

Why your business needs an emergency manual in case you get sick for an extended period, or worse – so you can rest easy if an emergency does come up, knowing that somebody else can take care of your business (page 10)

What to include in your emergency manual – so you can put it together quickly (page 12)

Why an external hard drive backup is not enough – stop resting on the false security it gives (page 14)

What to use in addition to your external drive backup – a friend followed this tip and, when her computer crashed, she was able to get her online businesses back up and running in MINUTES (page 16)

How to choose an online data backup service – it's cheaper than you think and once you set it up, you can just forget all about it. Plus, which files you should back up – so you know you've got all your bases covered (page 17)

How to back up your websites. No, trusting your web host to handle backups is not enough and can cost you your entire online business. Plus, my recommendation for two services to handle this task for you. (page 21)

My recommendation for a good book to refer to, if you'd like to learn more about disaster-proofing the rest of your life – and take care of grownup stuff, like legal matters, but in easy-to-understand language (page 22)
Who Is Nicole?
In case you're wondering, who I am and why you should listen to me, here's a brief introduction:
I'm Nicole Dean, the Marketer's Coach. I've been an online marketer since 2004, and earning enough to hire not just my Mom, but also my husband and a group of Moms and Grandmas who work for me.
I work at home so I can work anywhere and be with my husband, two silly children, and two puppies.
And because I've been online for such a long time now, I've made many of the mistakes I describe in this special report. I've also survived my share of natural disasters, like hurricanes (I live in Florida) and even a fire that started in the laundry room (thankfully it was caught and extinguished right away).
Because I support my entire family – and the families of the service providers I hire – I actively protect my business.
I share with you the exact tools and services I personally use, as well as others that have been recommended to me, in my special report, "How to Avoid Disaster in your Online Business."
This report is yours to download immediately for
only $15

I've had friends ask me why I'm not charging two or three times the price for this report. It's simply because I want this report in the hands of more business owners, even if that decision costs me money. It's just the way I run things.
Your happiness is 100% guaranteed.
And as always, "How to Avoid Disaster in your Online Business" comes with my no-holds-barred, ultimate-satisfaction, 60-day, money-back guarantee.
Give the report a read, try the suggestions I make, and if you aren't completely satisfied that it has helped you protect your business and life from the "unthinkables," then just let me know within 60 days of purchase (contact us at my help center or via email), and I will buy it back from you.
Yes, even if it is only $15 — hey, every dollar counts, right? And we'll still be friends, I promise.
As soon as we process your order, you'll get instructions to download the report, which comes in PDF.
Order "How to Avoid Disaster in your Online Business" now and have the peace of mind that you're prepared for any emergency.
Nicole, I want to have peace of mind that my personal life and business are safe. I understand that with the purchase of the "How to Avoid Disaster in your Online Business" Guide, I will receive this special report in PDF format immediately.

I also understand that I have your no-questions-asked, 100% money-back guarantee for 60 days upon purchase.

This is a digital download (.pdf format).

You'll get instant access to
this report as soon as we process your order.
Just Added!
I want you to have the best of the best of the best protection, so I twisted my friend, David Perdew's arm and got him to add another 20+ page bonus with even more information.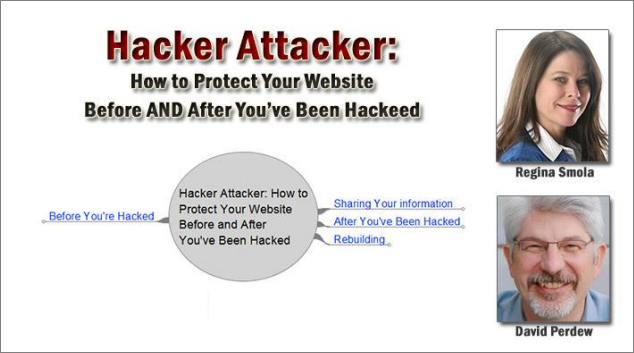 Don't waste another minute. You can protect your online biz for little or no cost and with just a little effort. Please do it now.
To Your Online Security and Success,

Nicole Dean
PS: It would be so awful if you pass up my offer and then later kick yourself for not taking my advice. I really don't want to say, "I told you so." Especially when it's so easy to prepare for the worst. You can learn all about it in "How to Avoid Disaster in your Online Business" Guide.
Download your copy now:
Remember, you get to read this report at no risk to you, because it comes with a 60-day, money-back guarantee.
"Nicole's new report on how to avoid financial and personal disaster is an absolute must read for anyone that has a computer (and if you're reading this, you have a computer ;). I've learned some of these lessons the hard way, so I absolutely know what this report tells you is the truth. Be pro-active in protecting yourself, and get this report to help you do that. Thank you Nicole for continuing to provide valuable information. You ROCK!"
-Traci Knoppe, yourwebtechteam.com