If You're Ready to Awesomize your Business, Your Life,
and the World...
You will LOVE this webinar!
If You're Here, I Want YOU in the Awesomization Nation!
The fact that you're here tells me one thing. You are striving to be happier and more successful, in your business, in your life and in your impact upon the world. YOU are the exactly person who needs the Awesomization Nation and we need you. I hope you'll watch the webinar and join us.
What Exactly Do You Get?
You will be a member of the Awesomization Nation for our Summer of Awesomization.
You'll instantly receive -
the "Quick Start Guide to Being Awesome"
a printable Awesomization tracker
a printable Vision Board
and a printable Dream-setting page
PLUS you'll get access to our private Facebook group where I'll give you an opportunity to share how you've been Intentionally Awesome every day. Imagine the inspiration we'll all find in what everyone's up to. It will be a cascade of Awesomeness – with absolutely no negativity allowed. (We're too busy changing the world and all.)
We'll begin the 2nd Official 30 Days of Awesomization – Beginning August 1, 2015.
Starting August 1st, you'll receive access to a Daily Dose of Awesome with ideas to awesomize your business, your life, and the world. These will be private pages on my site where I'll share videos, links, and task ideas. Choose one per day in each area and we'll be rocking in no time.
PLUS – I'll be collecting your stories of inspiration and God only knows where those will end up. So, do lots of awesome during the summer and I might make you famous, too.
---
Instead of spending another month willing yourself to be happier, more successful, and trying to find meaning to your life, go out and grab, like these folks did…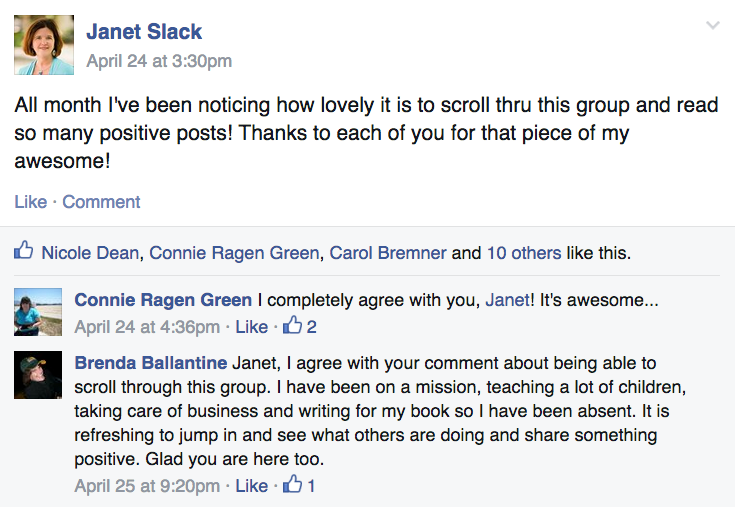 Awesome Waits For No One.
​
Awesome is rarely an accident. It's a choice. Choose Awesome Every Day. - Nicole Dean
​
---